WANT TO BUILD YOUR MATH MIND
AND YOUR SUPPORT SYSTEM?
Join The Build Math Minds Professional Development Member Site
For PreK-5th Grade Educators
The Build Math Minds PD site has professional development videos for elementary teachers on all topics of mathematics. You can earn PD credits from the comfort of your home, at times that are convenient for you.
Watch the video above to learn about the 7 Stages to Build Your Math Mind to get a glimpse of what's inside BMM.
Enroll in the Build Math Minds PD site
Use the green button below if you are purchasing for one or more participants and need to pay with a Purchase order or School/District Credit Card
NOTE*** Setting up memberships in our system can take up to 30 min. Do NOT repeat your purchase, you will create a duplicate order. Watch for your membership details in email along with your receipt. Check SPAM/Junk folders for these emails.  With increased email security many school districts are blocking email. If you feel your order went through but have not received membership details please use the help button below to contact us.  
The Build Math Minds PD site is online professional development that you can attend in the comfort of your home and at your desired time
I've been doing in-district trainings across the US & in Canada since 2004.  As much as I LOVE doing  them, there are challenges to them. The cost to have me come is crazy and it's usually just for one day.  So, I do the training and then there is no follow-up training after that.  This gives you a taste of the information but then once you go back to your classroom and have questions you don't have anyone to ask. 
Being part of the Build Math Minds PD site is different.
I created the Build Math Minds PD site to give you ongoing PD at your fingertips that helps you understand the math you are being asked to teach. 
Inside BMM are videos that help you understand the mathematical concepts and teaching pedagogy that will help you build your students' math minds.  Plus, there are multiple areas to ask questions directly to me and/or other members in the site. So you never feel like you aren't sure if you are headed in the right direction.
Ready to Build Math Minds?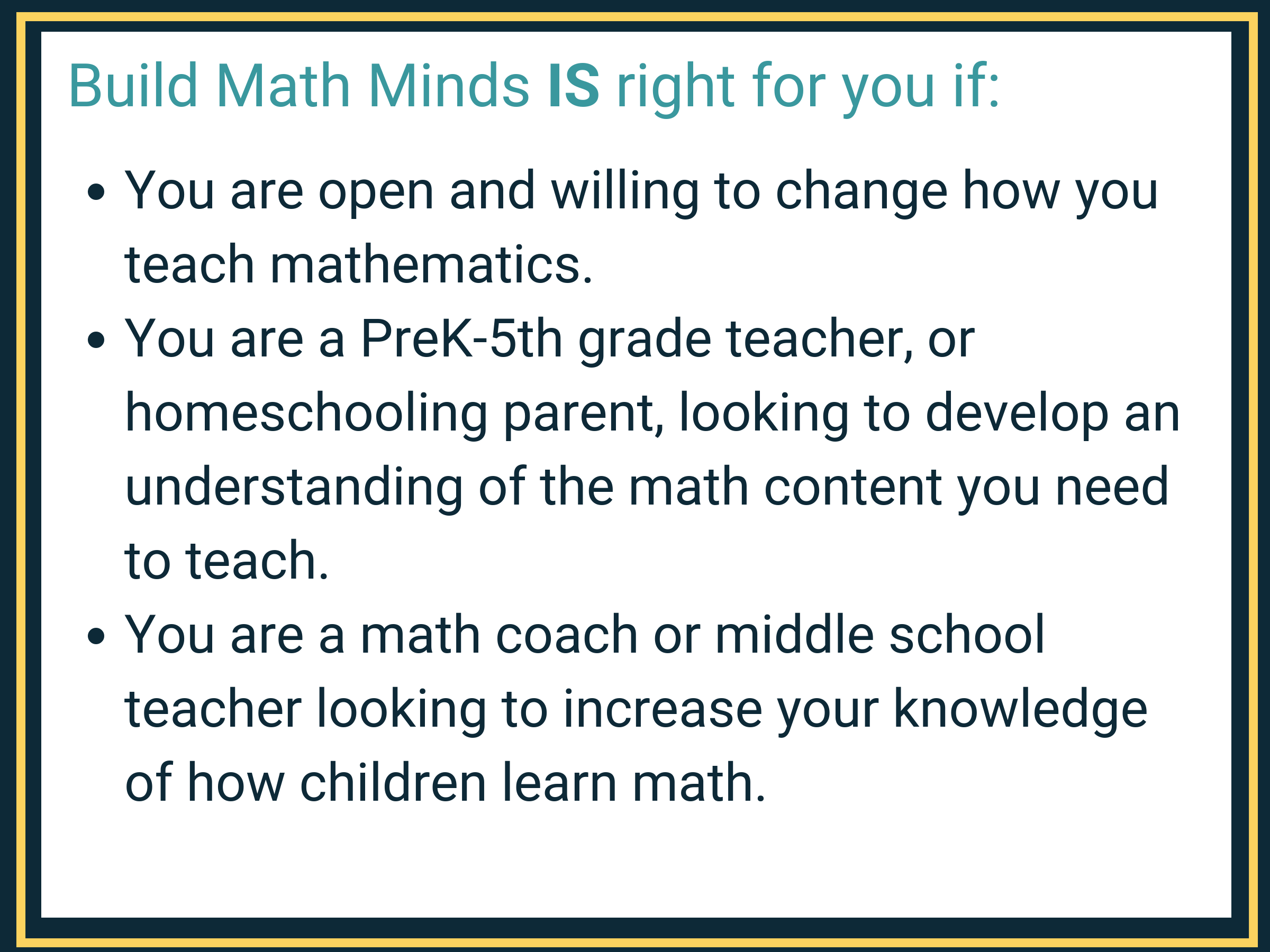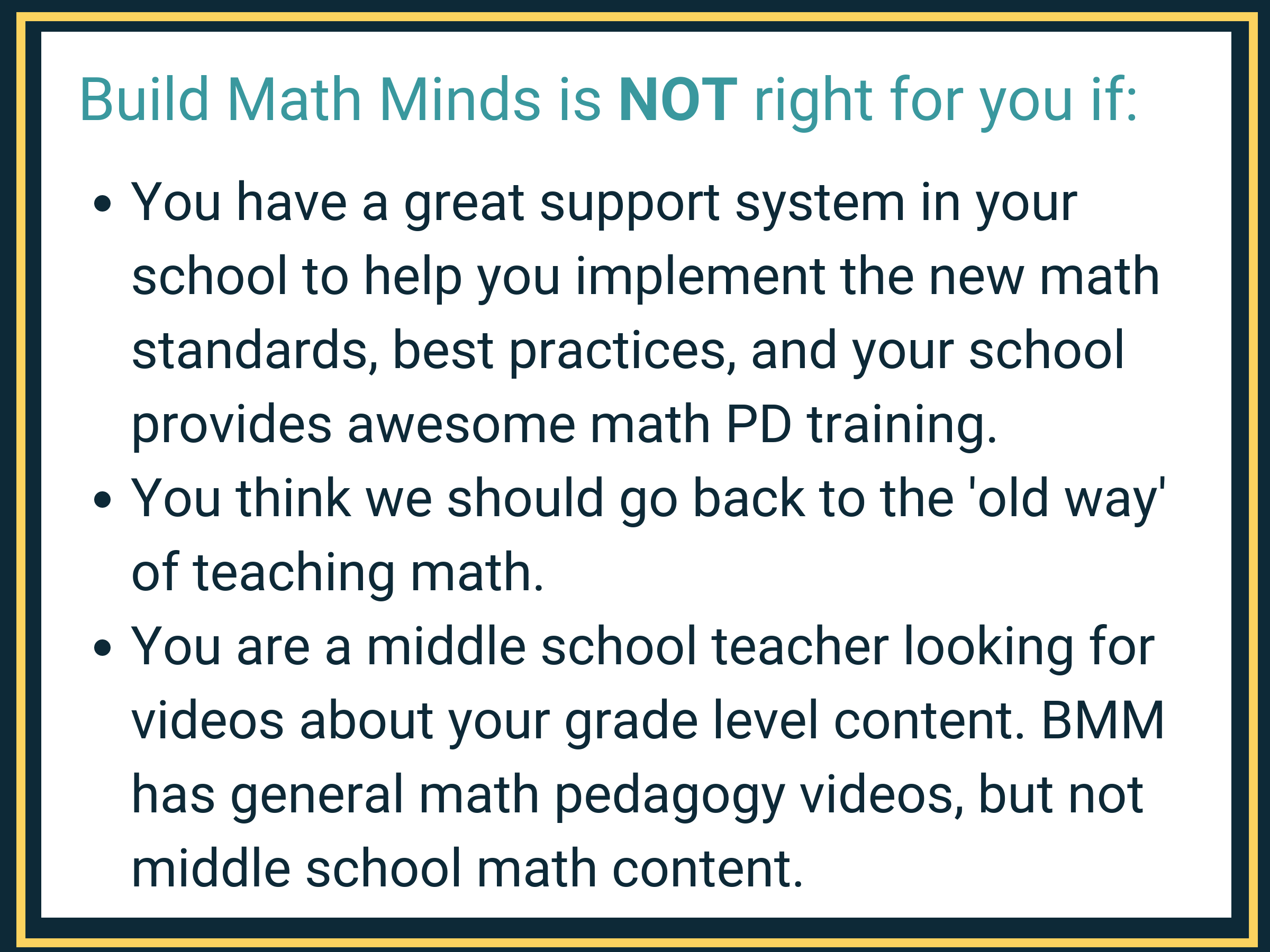 What's Included in the Build Math Minds Community
Discussion Area
Discussion areas for each video to post your questions & comments.
Access to all BMM Free Trainings
All free trainings that have been done by BMM over the past two years are unlocked for you to have access to at any time
PD Videos
Watch PD videos on all elementary math content and pedagogy.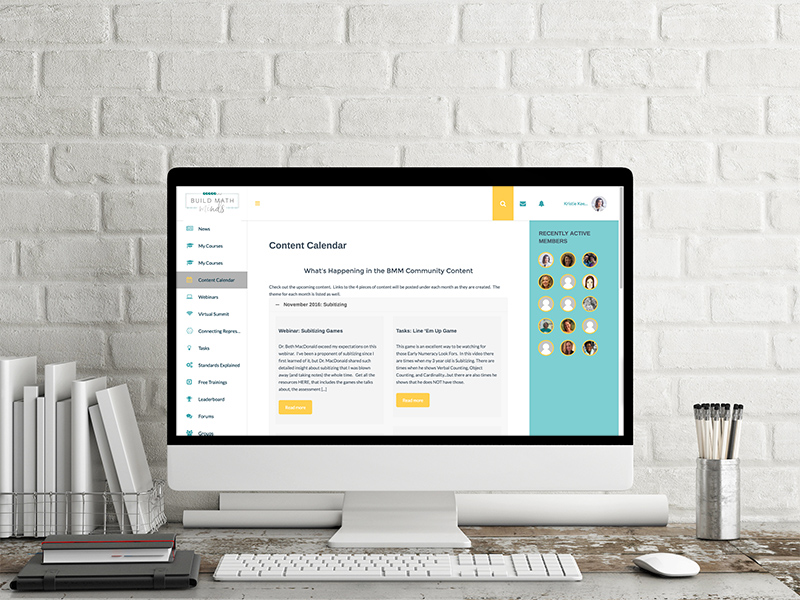 Groups
Get connected to other members who are from region or grade.
Access to Book Studies
You get access to past book studies we have done. If you participate in future ones you will receive complimentary books and goodies sent in your own special BMM Math Box!
Add Courses
Interested in taking one of my full PD courses?  Members can add courses at a discounted price. Just $180.
Virtual Summit Presentations
Watch sessions from this year's Virtual Summit AND all previous years at anytime.
What You Get With Your Membership
Inside the BMM site, I focus on building Content, Community, and Your Confidence. 
Build Math Minds is designed to build your Content Knowledge, your Confidence in teaching math, and give you a Community of like-minded educators that understand what you are going through as you try to build math-thinkers, not calculators. 
The PD videos are designed to help you:
Build your knowledge of the procedural and conceptual sides of the mathematics you teach

Develop an understanding of the research-based pedagogy and theories

Implement the ideas in your classroom

Understand how mathematics concepts are connected within your grade level and with other grade levels
The Comments & Groups are designed to:
Give you a safe place to ask questions about your most pressing math issues

Keep resources and ideas organized and easy to access

Help you find other educators going through the same issues and give you a place to collaborate with them

Connect you with like-minded educators who are dedicated to building mathematical thinkers and not just mathematical doers.
BMM Virtual Summit Presentations
The Virtual Math Summits are a collection of over 7 years of presentations done by elementary math experts. You might have watched some of them during the week of the free access, but as a BMM member you have full access to all the presentations of current and past virtual math summits anytime you want to watch them.
Not only can you go and watch the videos any time, you can bring together your colleagues and watch the presentations. Imagine watching & discussing these presentations during your PLCs.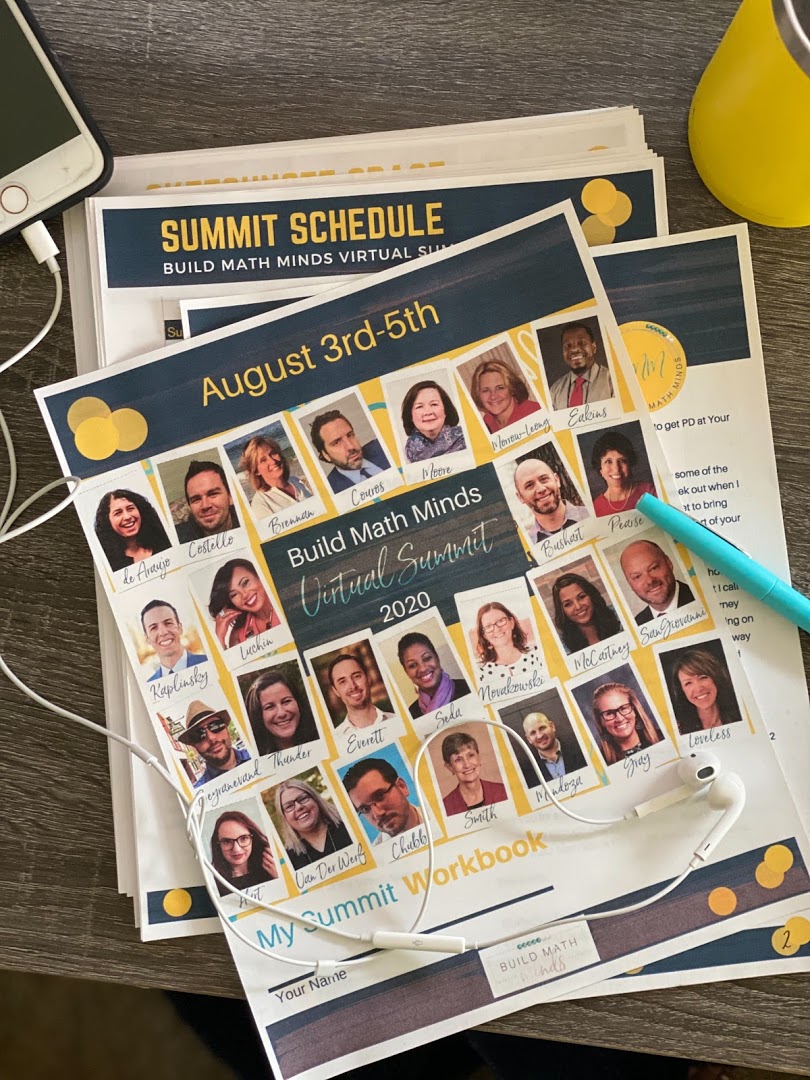 Free Trainings & Webinars
Inside the BMM Community, you get access to all the trainings and webinars that are released for a limited time.
Did you do the 5 Day Fact Fluency Training?  How about Graham Fletcher's free Fraction series?? Or my Number Sense Video Series??? All of those are inside Build Math Minds for you to have access to at any time. 
You also have access to past webinars done by:
Cathy Fosnot

Matt Larson

Dr. Nicki Newton

Check out all the past Virtual Math Summit speakers here!

A few times a year we do a Book Study. On occasion the Book Study includes a Math Box. In this box you will receive the book that we will be doing a book study on along with some other goodies.
Looking for a challenge and the motivation to implement some of the concepts you will be learning as a Member? Monthly Member Missions provide that extra structure to challenge you to implement what you are learning.

What members have to say about the
Build Math Minds PD site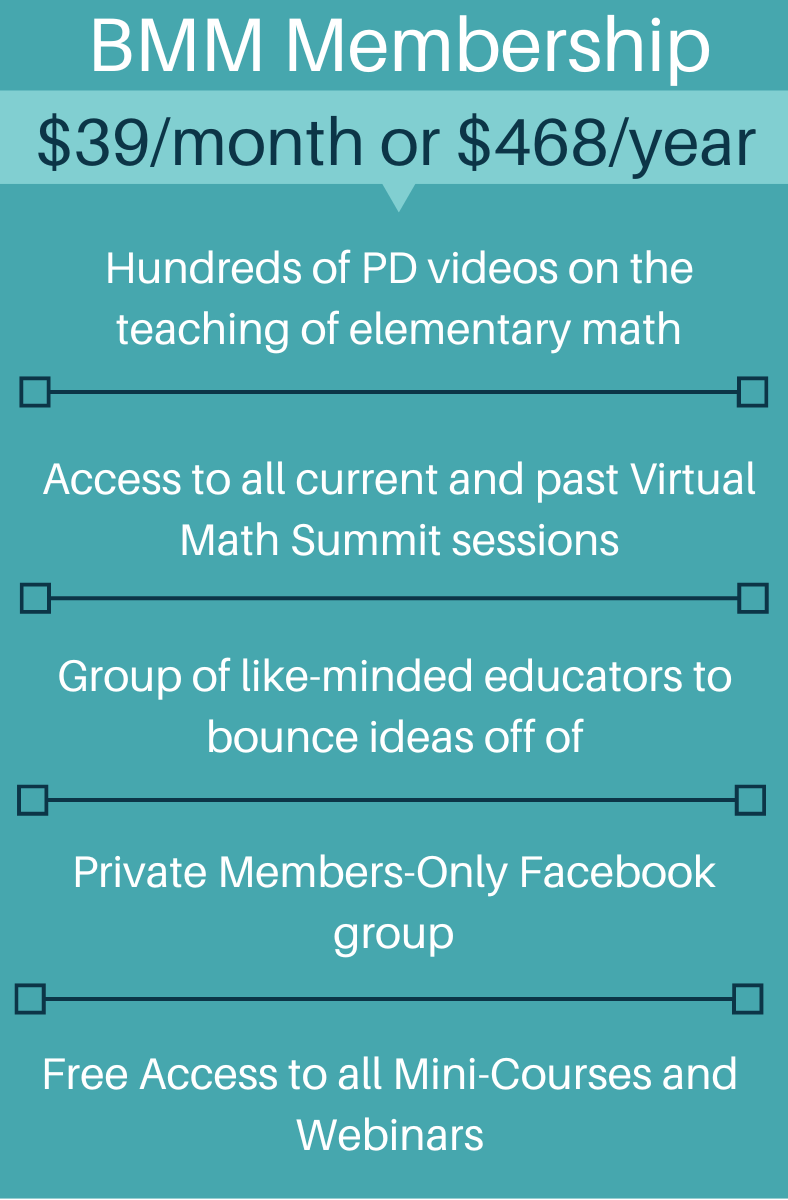 Use the green button below if you are purchasing for one or more participants and need to pay with a Purchase order or School/District Credit Card
Frequently Asked Questions
If I join do I get access to your courses?
The full courses (The Flexibility Formula PreK-2nd and The Flexibility Formula 3rd-5th) are NOT included in your membership.  However, as a member you do get a special discounted price on courses when registration opens for those courses.
The mini-courses (by Dan Finkel, Mike Flynn, Ann Elise Record, and myself) are included as part of your BMM membership.
Can I use a Purchase Order
Yes. By using a purchase order you can join with a 1 year school registration. To continue as a member you would need to renew this membership each year.  To learn more about joining with a school purchase order go here https://orders.buildmathminds.com
What is the time commitment if I join?
The amount of time you spend as a part of the community is up to you. Each week the content that is released may range from taking just 5 minutes to watch on up to 1 hour. You also have access to all the Virtual Math Summit presentations, past webinars, free trainings, and the groups. So, you could spend as much time as you want in the community!  
Can I get a certificate of completion/PD hours?
Inside the BMM Community, you can mark videos complete which allows us to track the amount of time you spend watching PD videos so that you can receive hours and we will be offering university credits each semester for those hours.
Can I just buy one enrollment but share the videos with my staff?
Absolutely! If you are a math coach or teacher leader and plan to use the content during your PLCs or other collaboration times, you are welcome to show videos during that time.
However, if you want each teacher to be able to watch the trainings on their own time, whenever is convenient to them, AND for them to be able to track their hours and earn PD hours, then each person would need their own login. Your school can take advantage of group pricing to add multiple accounts.
Can my school pay monthly?
Most schools can't purchase a monthly membership for you.  However, they may be able to purchase a full year's access.  Because the email address used in a monthly purchase sets up the account we don't want your school admin using a school credit card because this will not set the account up correctly. If your school wants to purchase a monthly credit card subscription you must enter your email address during the registration.
If for some reason your school will only do a 3 month or 6 month enrollment, just email us and we can see what we can work up.
What grade level is this for?
The content inside the community spans the grade bands from PreK through 5th grade. Some videos focus on PreK-2nd, while other videos focus on 3rd-5th content, and other videos are general information that spans all the grade levels.
Either way, it is a fundamental belief of mine that we all should learn about content in grades above and below the grades we teach to help us understand where our kids are coming from and where they will be going.
Can I become a member later?
Enrollment closes March 9th, 2023 and I only open enrollment for the Build Math Minds site once a year.  So, if you don't enroll now you can wait to enroll when it opens back up.
Will the price go up?
When you enroll, your membership is locked in at that rate as long as you stay a member. As more content gets added into the community, the price of the membership will most likely go up for new members. But, your price will never go up while you are enrolled in the community.
If I do the monthly enrollment can I cancel or am I locked in to a certain length of time?
When you enroll monthly, you will automatically be charged each month for your enrollment.  However, you can cancel at anytime.  You are NOT locked in to being a member for any length of time.  If you do need to cancel we just ask that you give us 48 hours before your monthly renewal payment so that we have time to cancel it before your next payment happens.
What's the difference between this paid site and the Free Facebook group?
The free Build Math Minds Facebook group is a place where everyone is sharing ideas and asking questions. I suggest resources to help answer those questions. But, I don't do any trainings in that group.
So, to me the biggest difference is that in the paid BMM site you get professional development video trainings from me that help you understand the WHY behind the math, the standards, and the activities, not just resources.
Ready to Invest in Math PD? 
Use the green button below if you are purchasing for one or more participants and need to pay with a Purchase order or School/District Credit Card
Hi!  I'm Christina Tondevold
a.k.a. The Recovering Traditionalist & Build Math Minds Facilitator
4 Quick Facts About Me
1.  I have 4 wonderful children and I thank the Lord that he changed the way I thought about mathematics before they arrived in my life so that I could provide math experiences for them, instead of math flash cards.
2.  I call myself a Recovering Traditionalist. I was a very traditional learner and teacher…give me an algorithm and I could solve it…give me any mental math or story problems and I would start sweating.
3.  I belive in the power of a postitive and growth mindset (for ourselves and our kiddos). Failure is often how we learn our best lessons…yet we try too hard to not let our students fail in class. Feeding them step-by-step directions on how to solve mathematics problems is NOT truly mathematics.
4.  My muther was my junior high English techer and she would propably have a heart attack if she ever ready any thing I put out…well, except for the 1st book I published (she was my editor). I donut take the time to be gramatically correct and nothin is ever prefect {I would rather spend my time with my kids} than ensure I wrote a complete sentence. 😉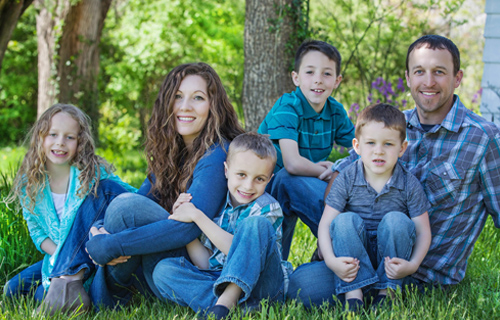 You May Have Seen Me Speak At One Of These Conferences